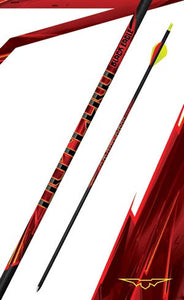 ROCK SOLID HUNTING FLETCHED ARROWS
SOLD IN 6 PACKS
19 SERIES | STANDARD DIAMETER
We've been asked a million times for a durable 19 Series hunting arrow, that's affordable, so we went above and beyond to answer the call.
This arrow was designed specifically for the toughest outdoorsman; it was built using superior carbon technology to handle the ruggedness and abuse encountered while hunting--and their price tag will keep you smiling! Designed with the perfect balance of speed and kinetic energy this shaft is extremely versatile for the range or the woods. Just like any Outlaw, they have been tested, beaten, and bloodied--and they keep coming back for more!
The Outlaw Arrow is the ONLY arrow in its class at .005" Straightness or better. The outlaw arrows have the best tolerance, best durability and the ABSOLUTE BEST PRICE!
Try some, and see for yourself why they're the only Outlaw that CAN be trusted!
FEATURES
STRAIGHTNESS OR STRAIGHTER
± 2
GRAIN WEIGHT TOLERANCE
FLETCHED ARROWS INCLUDE:
Flo-Yellow Nocks - 10 Grains
Outlaw Inserts - 14 Grains
2" Vanes | Flo-Yellow, Red - 21 Grains
Shipped in Outlaw Box
SPECIFICATIONS
Not sure what size is right for you. Check out our sizing chart.
| SPINE | INNER DIAMETER | OUTER DIAMETER | GPI |
| --- | --- | --- | --- |
| 300 | .2445" | .300" | 9.1 |
| 350 | .2445" | .297" | 8.6 |
| 400 | .2445" | .294" | 8.1 |
| 500 | .2445" | .285" | 7.4 |
| 600 | .2445" | .278" | 6.8 |
| 700 | .2445" | .275" | 6.1 |