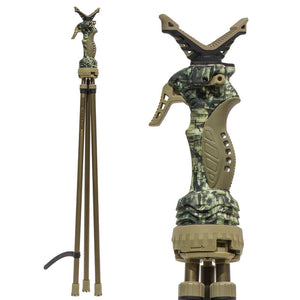 Primos has the Triggerstick GEN3 Crossbow Tall Tripod made to fit the wider bases or most crossbows. For all you that use a rifle rest and are tired of the high tight V now you have one that is made for your style of hunting. This tripod is made to adjust from 24" to max of 62" to let you set the height from in a chair or blind to standing for a just over the hill that you have for cover. Now matter what height you need this can be the solution for you. The stick also features an optics and accessory mount for quick changes from spotting and scouting to ready for the shot hunting. Stay ready and steady with Primos.
Specifications and Features:
Primos Triggerstick GEN3 Crossbow Tall Tripod 65818
Adjusts from 24" to 62"
Specifically designed for the crossbow hunting and shooting
Ability to support a variety of different crossbows
Camo and Green